Oligo.DX
Cellulite Reducing Gel
Oligo.DX is the only natural cellulite treatment powerful enough to reduce it significantly for 89% of women. Utilizing micropatch caffeine, a recently discovered cosmetic breakthrough, along with other technological advances. Oligo.DX reaches subcutaneous deposits of lipodystrophic cellulite and increases the bioavailability of caffeine by 114 percent, compared to free-form caffeine found in conventional cellulite treatments. This feature delivers the only topical formula clinically proven to penetrate subcutaneous lobules of cellulite and dissolve lymphatic buildup significantly, to create smoother firmer thighs, buttocks, and hips.
This advanced cellulite reducing gel assists in the treatment of cellulite and localized fat, facilitating the dissolving of fat, improving micro-circulation, and the elimination of excess fluid buildup in the tissue.
Oligo.DX Cellulite Reducing Gel contains four key compounds blended to remove the unsightly appearance of cellulite. It absorbs rapidly and has a pleasant fragrance. Leaves the skin with a smoother, firmer, and healthier appearance as soon as you start to use it.
Triple Action Firms, Re-Contours, Hydrates
Oligo.DX® penetrates and dissolves cellulite nodules and focalized fat. It has a cleansing and detoxifying effect that improves the overall quality of the skin without the need for invasive treatments. Week after week, skin texture improves, and your skin becomes smoother and tighter.
The pleasant gel stimulates the production of lipase enzymes that speed fat digestion and reduce pressure on blood and lymphatic vasculature. Natural drainage of fat, fluids, and trapped toxins can then occur through the enhanced circulatory and lymphatic systems.
Improves Lymph Circulation and fluid retention
Excess fluid builds up in the tissue and affects the blood and lymph circulation, making it harder to burn fat. The build-up of bodily waste, also known as toxins, attach to the large fat cells and contribute to the appearance of cellulite.
SMOOTH YOUR SKIN
Tighten, Tone, and Detoxify: a Cellulite Reduction Gel for Better Skin
Advanced Nanosome Delivery System
If an anti-cellulite formula is going to work, it must offer deep penetration. Oligo DX does just that - by dissolving rapidly into the skin, it targets focalized fat for a smooth, beautiful appearance.
Improves Uneven Texture
Oligo DX® penetrates and dissolves the cellulite nodules and focalized fat, leading to a smooth appearance without the need of painful massages.
Cleanse and Detoxify Skin
Oligo.DX® has a cleansing and detoxifying effect that improves the overall quality of the skin without requiring expensive treatments. Just apply the advanced formula to see more even, more uniform skin week after week.
Improves Microcirculation
With its unique formulation with micropatach caffeine encapsulated in nanosomes, it improves the microcirculation avoiding any fluid retention.
One Application per Day
Thanks to the innovative active transportation system of Oligo.DX® takes the active ingredients to the skin layers where cellulite forms and keeps working for more than 24 hours.
Tightens and Sculpts
A moisturizing body cream to firm, tighten, and sculpt your bum, legs, arms, and waist from the first month of use.
Who needs
Men & Women
Cellulite concerns on the arms, thighs, legs, or stomach
Cellulite tendency that does not respond to diet and exercise
Directions:
(INTENSIVE): Apply Oligo.DX® on the desired area once a day after bathing. A massage is not necessary. For visible results, continue the treatment for 60 days. (PREVENTIVE): Use this product once a day for 30 days, two to three times a year. Avoid the simultaneous use of hydrating soaps or creams. These products could interfere with the absorption.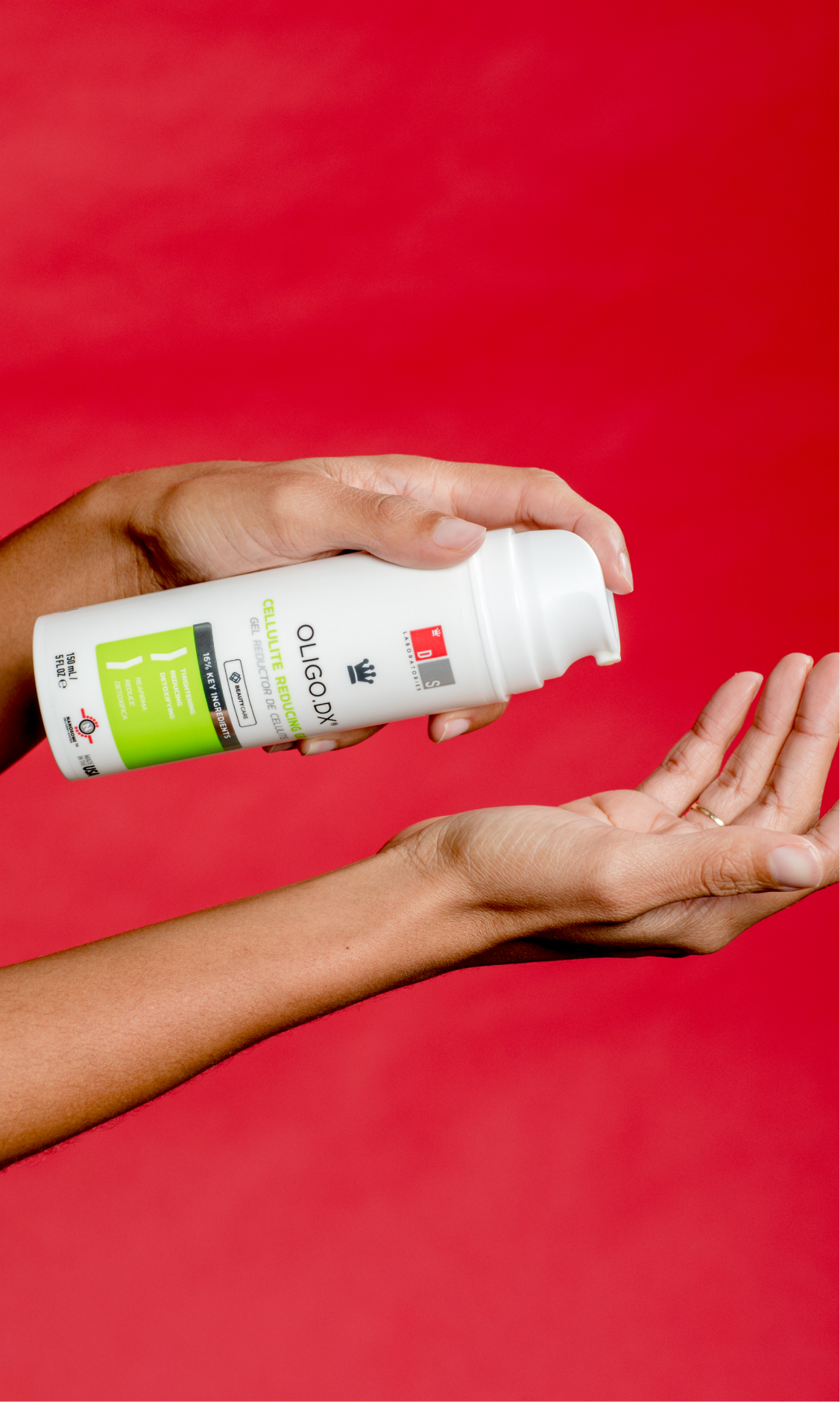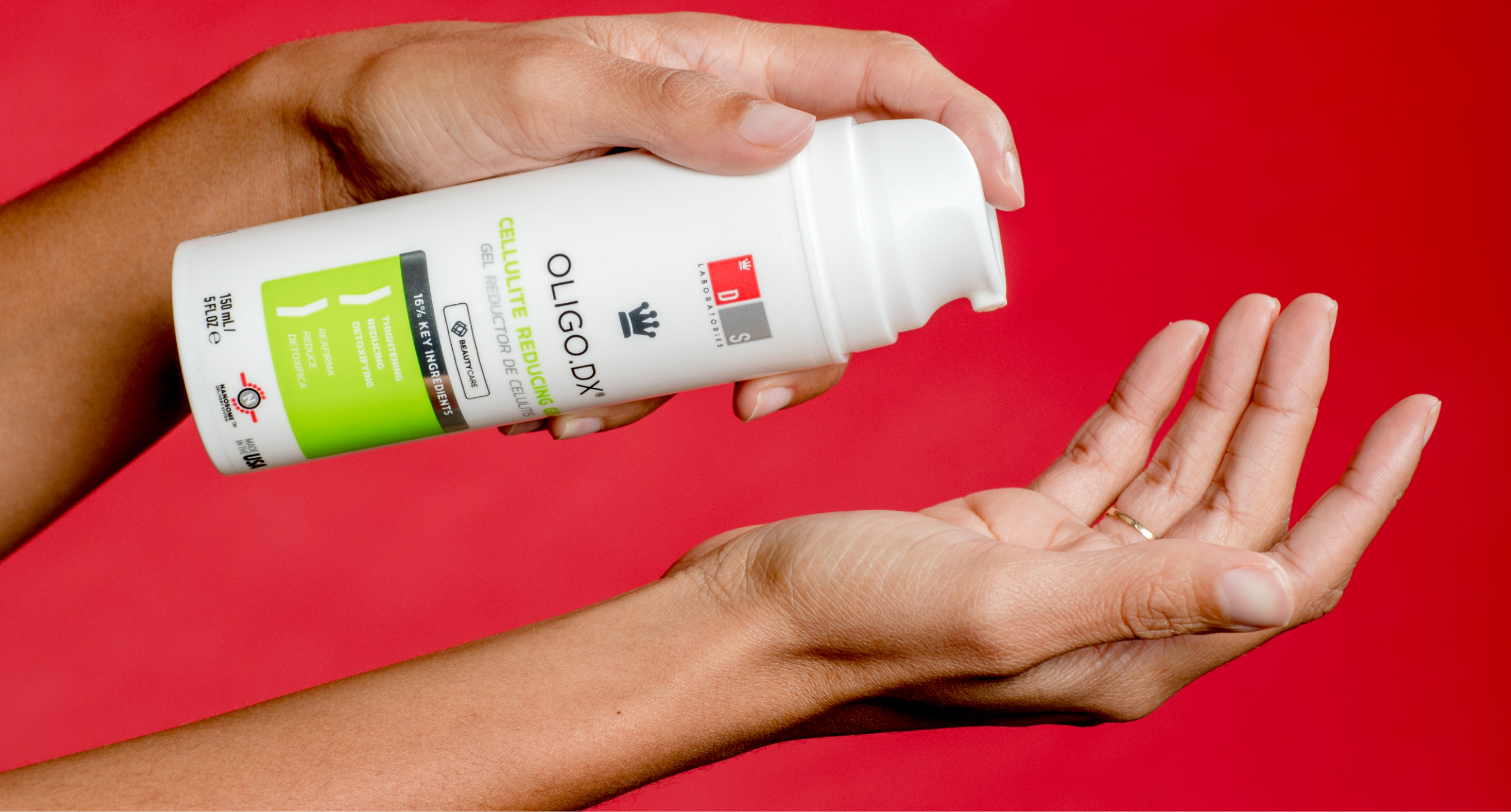 GET RID OF ORANGE PEEL
Oligo.DX is clinically proven to prevent to reduce the look of cellulite*